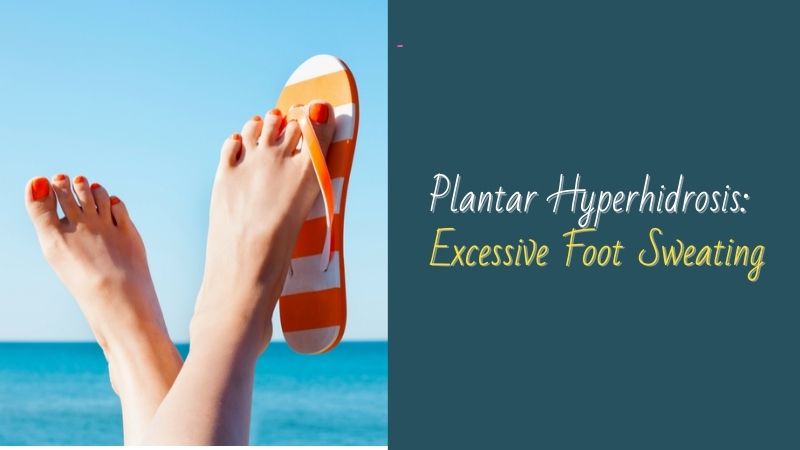 Excessive foot sweating occurs in 5% of the world's population, and this is about 380 million people. The condition is accompanied by a strong unpleasant odor, abrasion of the skin, and often a fungal infection.
During the day, the feet are "locked" in shoes, and it is not always possible to carry out hygiene procedures. Therefore, the increased activity of sweat glands causes a lot of inconvenience to a person. Why do feet sweat a lot and what is a sweating feet cure? We will tell you further.
Causes of sweaty feet
The main reasons why only feet sweat a lot:
Wearing low-quality or poorly ventilated shoes: synthetic, rubber, etc .;
Inadequacy of the chosen footwear to weather conditions: Wearing closed shoes and sneakers in hot weather;
Wearing closed shoes without socks;
Use of synthetic tights or socks;
Putting shoes for hyperhidrosis on wet feet;
Non-observance of hygiene rules.
Typical symptoms of plantar hyperhidrosis
A sudden burst of sweat or persistent feeling of "sweating";
If a person sweats not only for understandable reasons (heat, stress, spicy food);
Sweat intensity varies from a thin, moist film to beads and sweat drops;
Hands are constantly cold. In extreme conditions, they can even turn white and blue;
With sufficient hygienic care of the whole body, visible sweat stains and a halo of sweat are visible on clothing;
Hosiery is constantly wet.
Top 10 tips for hyperhidrosis
It is not easy to get rid of foot hyperhidrosis, since it is often a feature of the body and not a pathology. But you can significantly reduce sweating if you follow a number of rules:
Keep a log of observations – note situations after which or during which hyperhidrosis is observed. This will help you avoid them later;
Wash your feet more often – if you have hyperhidrosis, you should wash your feet twice a day. In this case, cool water is used with the addition of essential oils with an antibacterial effect (eucalyptus, tea tree, etc.);
Thoroughly wipe your feet – if water lingers between the toes, it will be easier for the pathological microflora to multiply;
Use powders for feet and shoes – talcum powder with starch is also suitable, but it is better to buy specialized preparations at the pharmacy. They contain antibacterial and antifungal agents to prevent odors;
Apply antiperspirants to the legs – the procedure is carried out before bedtime, applying to dry, clean feet. First, the treatment is carried out daily 3-4 evenings in a row, then do this once a week to keep the result ;
Wear socks made from natural fabrics – choose cotton and linen;
Change socks at least 2 times a day;
Wear natural shoes – leather and suede allow air to pass through, which is why the foot is properly ventilated and sweat evaporates;
Use antibacterial shoe insoles;
Do not wear shoes for 2 days in a row, allow them to dry out.
If simple tips do not help, you can think about feet hyperhidrosis drug treatment – botulinum toxin injections to reduce the intensity of the sweat glands. The procedure has a number of contraindications, so it should be carried out under the supervision of a doctor and only after an in-person consultation.
When your feet sweat, you need to consult a dermatologist. You should not try to find the cause on your own because often the fungus is invisible. And treatment of an advanced form of the disease is long, expensive and difficult. But you'd better consult a doctor in a timely manner.
Category: Hyperhidrosis
Tags: excessive sweating, foot sweating, plantar hyperhidrosis, sweating