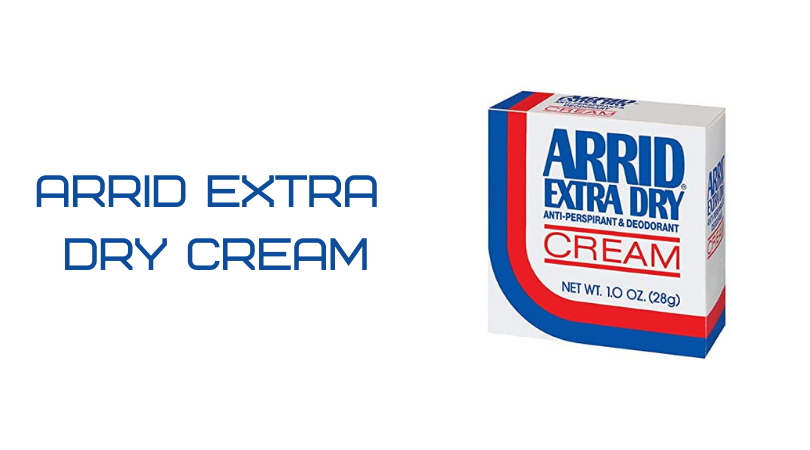 ARRID™ Extra Dry Cream is original antiperspirant deodorant. The unique formula is orianted on smoothing skin. It provides a full 24 hours of strong wetness protection. So you will feel fresh and comfortable all day long.
The main ingredient is aluminum sesquichlorohydrate 17% cream. Excipients are Water, Glyceryl Stearate, PEG-40 Stearate, Cetyl Esters, Glycerin, Dimethicone, Isopropyl Palmitate, Petrolatum, Lanolin Alcohol, Lanolin Wax, Hydroxypropyl Methylcellulose, Frangrance, Titanium Dioxide, Lanolin, Propylparaben, Mineral Oil.
Warnings for external use only. Do not use on damaged skin. Stop use if rash or irritation happens. Ask a doctor before use if you have kidney disease.
When is it applied?
Hyperhidrosis is excessive sweating that can be focal or diffuse and can have many causes. Sweating in the axillary fossa, palms, and soles is most often a normal response due to stress, exercise, or hot weather, and diffuse sweating is usually idiopathic, but in patients with comorbid symptoms, it should raise suspicion of a malignant tumor, infectious or endocrine disease. The diagnosis is obvious, but there may be indications for testing to determine the cause of the disorder. Treatment includes the use of aluminum chloride for external use, iontophoresis with tap water, rubbing with glycopyrronium, oral glycopyrrolate or oxybutynin, botulinum toxin, and in extreme cases, surgery.
Clinical manifestations
Hyperhidrosis is common during exams and can sometimes be severe. Clothes can get wet through and the palms and feet can macerate and crack.
Hyperhidrosis can cause emotional distress for patients and can lead to social isolation. The skin of the palms and feet may have a whitish appearance.
Category: General Info
Tags: healthcare, hyperhidrosis